Expired Grocer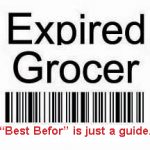 Business Name:
Expired Grocer
Long Business Description:
Buy Expired Food Wholesale by searching our Classifieds Directory for Wholesalers looking to dispose of overstocked inventory or pending expired best before date stock.
Find out exactly about the best before meaning. The Food Authority classifies food products into those that need a strict "Use By" date (usually containing moisture and contamination risk) and those that are packaged dry grocery products with a really long shelf life which only requires a "best Before" recommendation.